AirNav Systems finally released its own iOS application today, coming very late to a market that FlightRadar24 and Pinkfroot have enjoyed for quite some time now. Below is a matrix comparison of the three different applications and their features.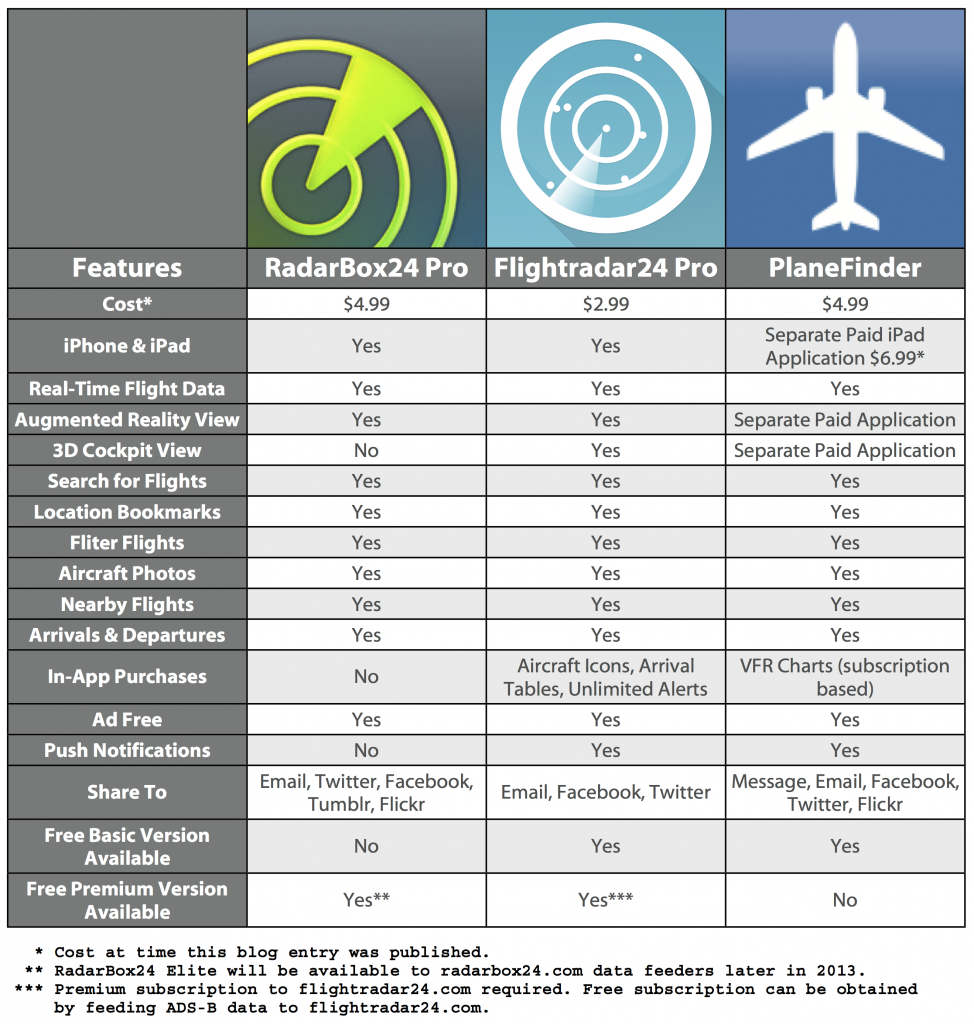 PlaneFinder
As you can see, the three apps all support the same fairly basic set of features, though at varying prices, the most expensive of which is obviously PlaneFinder. Developed by Pinkfroot, the iPad and iPhone versions of PlaneFinder are two separate apps rather than being one app that works on both devices. That means you have to pay twice for the same thing. If you want the augmented reality view – you can hold your iDevice up to the sky to see aircraft near you – then Pinkfroot wants you to buy another app, though that one is designed to work on both your iPhone and iPad. The 3D cockpit view is yet another separate app (again for both iPhone and iPad) that allows you to see what the pilot sees. This is a pretty cool feature when planes are at lower altitudes, but not much changes when a plane is at 30,000 feet. PlaneFinder itself is actually a pretty decent app to use. It's quick and has a minimalistic interface, allowing the map to occupy most of the screen.
RadarBox24 Pro
RadarBox24 is – as mentioned – the newest app for iOS, and it's pretty slick. The graphics are appealing and the interface is fairly well laid out. I do find that the background on the aircraft labels makes them difficult to read when they overlap in crowded airspace, but zooming in is quick and rectifies the issue. However, if you zoom out too far and the screen is simply full of aircraft, I've found the app grinds almost to a halt. To be fair, my iPhone is an older iPhone 4, but it runs iOS 7 just fine, thank you very much. One feature missing from RadarBox24 is push notifications, which both PlaneFinder and Flightradar24 do very well. This seems like quite an oversight for developer AirNav. Hopefully push notifications will be included in a future update. I really like the Area Events screen of this app, which shows all ADS-B departing or arriving in your area.
Flightradar24 Pro
This app offers the best value for money, in my opinion. At $2.99, you get a well-rounded app that includes all the features of RadarBox24 Pro plus push notifications. It works on both the iPhone and the iPad and is pretty intuitive to use. Sharing to Twitter or Facebook is simple. The flight detail screen shows the "radar" from which the aircraft's data is being fed, and the latitude and longitude update in real time. From this screen you can access the 3D cockpit view, which lets you see what the pilot sees. It's a great feature when you're watching a flight land.
If you feed data to flightradar24.com, there is a free premium version of Flightradar24 that you can download. It has all the same features as the pro version, but requires you to login using the same username and password you use on flightradar24.com. AirNav tell me that they will be releasing a similar free app for RadarBox24, an elite app that will be free for those folks who feed data to their network. RadarBox24 Elite should be available later in 2013.
Available on the iTunes App Store
Plane Finder and Flightradar24 both also provide feature-limited free versions of their apps. Search the iTune App Store for more info.