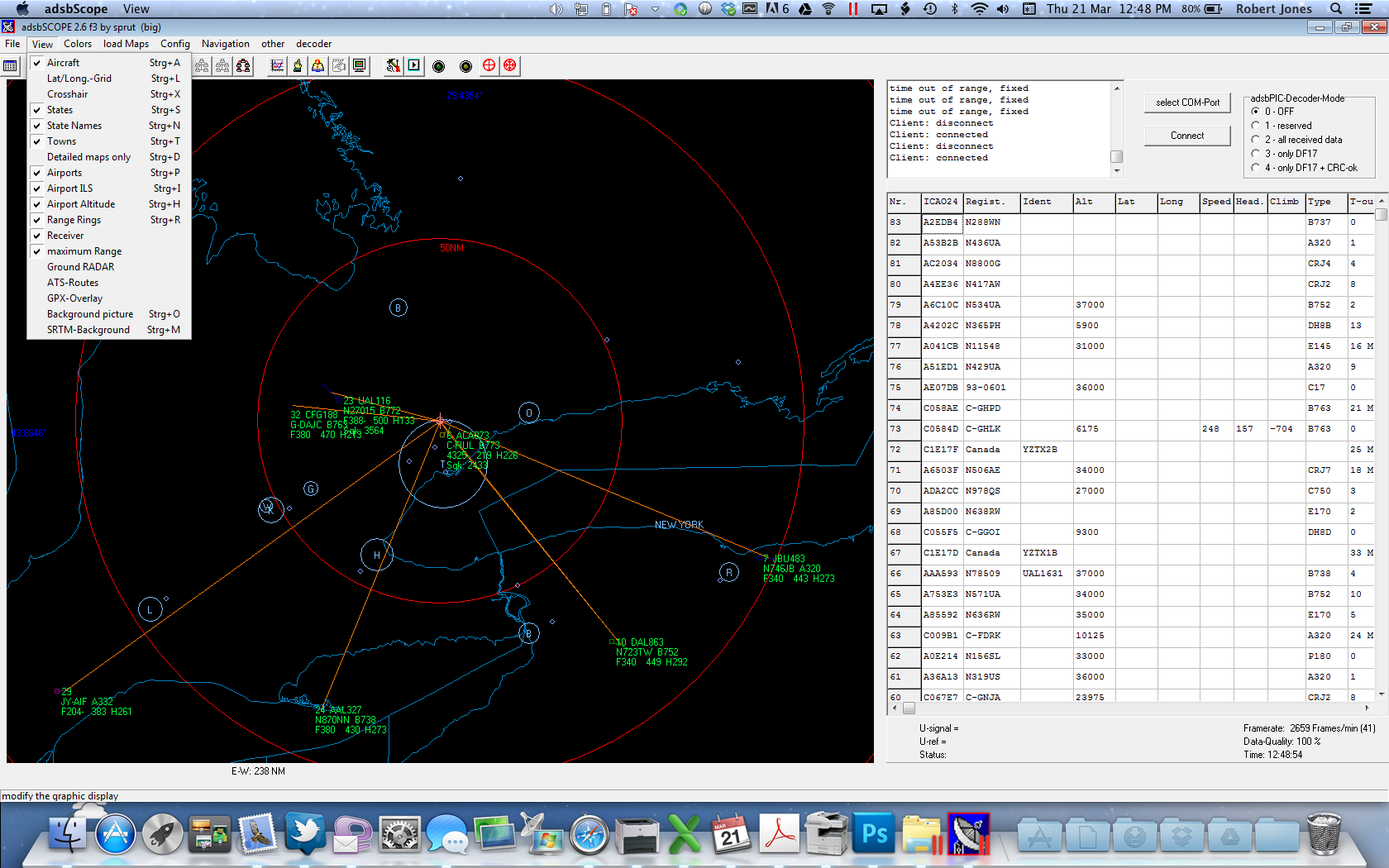 There has been quite a bit of back and forth on the RTL1090 Yahoo Group lately about setting up ADSBScope to monitor aircraft using an RTLSDR dongle. It isn't difficult, but ADSBScope isn't very intuitive and the German spellings in some of the menu items could lead to some confusion. However, since it's free, you can't complain! All you can do is explore — delve as my spouse likes to say — the menus and try different things to see what happens. That's how I figured out how to set it up. You may not be an explorer, so follow this guide instead.
Which Decoder?
Firstly, RTL1090 is not the only decoder application available. There is a second app called ADSB# (pronounced ADSB Sharp) that can also decode the signals received by your dongle. They both do a decent job, but I find the expanded feature set in RTL1090 favourable. In addition, RTL1090 is under constant development, so it gets better and better all the time. Both applications are very easy to use if all you want is basic decoding: Just launch and click Start.
By default, RTL1090 broadcasts the data on port 31001. ADSB# uses port 47806 by default. You don't necessarily need to know this to make ADSBScope work with either decoder, but it's handy information to have to confirm your setup is correct.
Setup ADSBScope
If you've just downloaded ADSBScope for the first time and have never used it before, then the first thing you need to do is tell ADSBScope where you are in the world. If you skip this step, you won't see any aircraft plotted on the virtual radar display — unless you happen to be in Prague, which is ADSBScope's default location.
From the menus across the top, select Navigation > goto Town or Airport. A dialog box will appear with two columns: on the left is a list of towns and cities around the world, and on the right is a list of airports. You can search for your city or the closest airport to you by typing into the blank fields at the top. I'm very close to Toronto Pearson International Airport, so I typed YYZ in the right column. Once you've clicked on your city or airport in the list, click Close.
Once you've done that, you'll want to tell ADSBScope that this is your default location. To do that, go back to the Navigation menu and select set Receiver Location.
You'll be prompted to confirm you want to set the receiver location:
I'm going to assume you clicked OK. 😉
Connect ADSBScope to the Decoder
Whether you're using ADSB# or RTL1090, the process for establishing a link to ADSBScope is almost identical. Start by choosing other > Network > Network Setup from the menus.
A dialog box will open that shows some fields for port numbers for different purposes. Ignore those for now and concentrate on the buttons in the area for RAW-data-client at the bottom. There are four buttons, labelled adsbScope, BEAST, RTL1090 and ADSB#. If you are using RTL1090 to decode your data, click the RTL1090 button. If instead you are using ADSB# to decode the data, click the ADSB# button.
Notice how the port number changes depending on which button you press. For RTL1090 it changes to 31001; for ADSB# it changes to 47806. The dataformat also changes: binary for RTL1090; normal (or ascii) for ADSB#. Regardless of decoder, click local to ensure the ip address reads 127.0.0.1. This assumes you are running your decoder software and ADSBScope on the same computer. If you are using two computers, then you'll need to change the ip address in the URL field to match the ip address of the computer on your network that is running the decoder software. once you have the right configuration setup, click Close.
If you want ADSBScope to remember all of this information (your location and your network setup), the choose File > save default. You can opt to choose save as.. instead if you want to have more than one configuration setup. In that case, you'll be prompted to enter a name for your configuration, and you'll need to select File > load to open that configuration when you want it.
Start Plotting
Now that we have the minimum setup needed to make ADSBScope work, you need to enable the connection to the decoder software. You can do this in one of two ways. Either select other > Network > RAW-data Client active, or click the third icon beneath the Navigation menu (the icon looks like a series of connected computers).
If you've done everything correctly up to this point, you should see something like this:
Congratulations! You are now seeing a list of aircraft and some of them may be plotted on the virtual radar. Not all aircraft are broadcasting their position, so the number of aircraft shown on the radar may not match the number in the list. Don't worry, that's normal. The radar screen doesn't look much like a radar screen, though, does it? We can change some other settings in ADSBScope to make it a bit more snazzy, though.
Adding Gravy
So far we've managed to get to the meat and potatoes of ADSBScope and now have it plotting aircraft on the virtual radar screen. Let's add some gravy to the meat and potatoes now by changing the way the display looks to make it a bit more interesting. I'm not going to show you everything that can be changed in ADSBScope, but I'll show you enough to give you an idea what else you can do.
Let's start by downloading some maps so we can visually see where aircraft are in relation to bodies of water and borders around us. To do this, select load maps > download maps from internet and choose the continent of your liking.
I've downloaded the North American maps. Now you have to tell ADSBScope to load the maps. Since I'm in Canada, I'm going to activate the Northamerica Canada, Alaska… map.
The result is this:
If you've taken North American geography, have visited here, or own an atlas, you may have noticed that only half of the Great Lakes are showing — the Canadian half. Because of my proximity to the border with the United States, my RTLSDR dongle picks up aircraft south of Lake Erie and Lake Ontario as well. So I'm going to also activate the map for the US.
Now this looks more like it!
Hrm, but water should be blue, n'est-çe-pas? Let's change the colour of the outline of the lakes. From the Colors menu, select State Borders. A dialog pops up that lets you select a colour. Pick a nice shade of blue.
You can change the colour of other features as well, like Towns, Airports, the Crosshair and Range Rings. While we're speaking about Range Rings, let's display those so we can see roughly how far away aircraft are. Select View > Range Rings.
By default ADSBScope displays the range rings in 50km intervals, but you can change that in the Config menu. I have mine set to display in Nautical Miles.
Notice you can change the configuration for plenty of other things in the Config menu. Play around with some of the settings to see what happens. You can't break anything. If you don't like the change you made, simply change it back. Once you have everything setup the way you want it, using the View, Colors load maps and Config menus, remember to save the configuration so you don't have to set it up all over again next time you run ADSBScope.
This is what my ADSBScope looks like at the moment:
Have fun customizing the way your virtual radar looks!